Book Expo 2014: Some of the Highlights!
So many interesting people, exhibitors and events at Book Expo!  I've been trying to figure out how best to encompass any of it.  I'm never going to manage to touch on everything, but here are some of the highlights of  my three days.
Exhibitors
There are so many varied exhibitors at BEA, I tried  to touch base with all of  them that might have books that met with my interests as a children's librarian and as a blogger.  Everyone was delightful to talk to!  All the big name publishers were there with giveaways and author signings and lots of bookmarks and posters for me to bring back to the branch for my young patrons.  Here's a couple publishers you might not know as much about!
I first learned about this company last year from the amazing Betsy Bird at Fuse#8.  This international publisher provides some stunning books for children and their representative was happy to chat with me.  Love fairy tales?  Minedition takes their fairy tales seriously.  I encourage you to check out last year's Hansel and Gretel by Sybille Schenker.
This year's offering from Schenker is a stunningly crafted version of Little Red Riding Hood (which I can't wait to see the finished product!).
I also got treated to seeing a galley of The Wolf and the Seven Kids illustrated by Japanese illustrator Keiko Kaichi.
This adorable title is due out in September 2014 and is simply one of the most charming renditions of the story I've seen.  Just looking at those adorable kids on the cover, you know you're in for something special.  Methinks I'm going to be doing a lot of my younger  reader present shopping with books from this publisher!
I first happened across this publisher about six months ago while looking for an older children's book to request for the library.  Turns out, the New York Review of Books Children's Collection has a treasure trove of books I hadn't known about.  Here's part of the description of what this publisher is about from their webpage:
The NYRB Classics series is designedly and determinedly exploratory and eclectic, a mix of fiction and non-fiction from different eras and times and of various sorts. The series includes nineteenth century novels and experimental novels, reportage and belles lettres, tell-all memoirs and learned studies, established classics and cult favorites, literature high, low, unsuspected, and unheard of. NYRB Classics are, to a large degree, discoveries, the kind of books that people typically run into outside of the classroom and then remember for life.
Oh, there are so many good books here!  Among the children's works you'll find things like Mistress Masham's Repose by T. H. White (c1946), The Glassblower's Children by Maria Gripe (first published in 1964) and Junket is Nice by Dorothy Kunhardt (c1933).   Perhaps the title that intrigued me the the most at Book Expo though is a completely original one coming out in October 2014.  The book is Alphabetabum by Vladimir Radunsky and Chris Raschka.
It's an alphabet book that combines vintage photgraphs and verse for all the letters of the alphabet.  Reminds me of Miss Peregrine's Home for Peculiar Children by Ransom Riggs (Quirk, 2011), but I'm curious to see if this is more attractive to kids or teens and adults!  Certainly the most peculiar alphabet book I've seen in a while!
Authors
I saw so many authors while I was there!  Including the always lovely and amazing Jane Yolen.  She was there signing her new book: A Plague of Unicorns (Zonderkids, expected publication December 2014).  She was gracious enough to not mind me being a little bit "fangirl" as I babbled about how much I've loved reading her stuff since I was a kid and how much I appreciated her both as an author and editor.
Garth Nix was at BEA signing copies of his upcoming prequel to the Sabriel series; Clariel (October, 2014).  I was already excited about the book, but it was a real treat to get to finally meet this Aussie author!
I had the fortune to encounter Tom Angleberger during his in-booth signing for the first book in his new series: The QwikPick Papers: Journey to the Fountain of Poop (May 2014).  Got to tell him how much I enjoyed his short story "Rise of the RoboShoes" from the Guys Read: Other Worlds anthology.  Apparently I'm the first person to mention loving that particular story upon meeting him!
I met Shannon Hale and came away with not one, but two books signed!  The second book in her Ever After High series; The Unfairest of them All (March 2014) and the multi-authored series Spirit Animals; Fire and Ice (June 2014).  I mentioned to Shannon that my favorite book of hers may just be The Book of a Thousand Days (2007) which she agreed was one of her favorites as well. I'm a little disappointed to miss out on snagging a copy of Princess in Black (October 2014), but I'll get to see it eventually and can't really complain.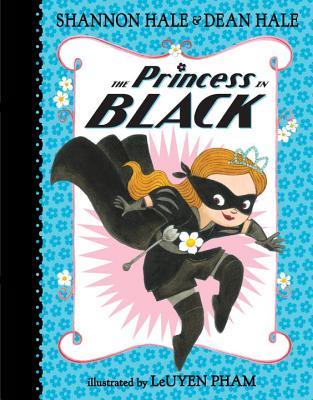 I also had the fortune of getting a chance to meet Timothy Bradley in person.  I've reviewed two of his Sci-Hi books Hive Mind (2013) and Ripple Effect (March 2014) so it was really nice to get to meet in person and chat for a bit.  Looking forward to doing an interview with Tim in the upcoming month–just have  to get my ducks in a row!  Meeting well established authors in the field has its own cache, but it's a real pleasure to meet with newer writers–especially those with an interest in SF and Fantasy!
Another real delight was getting to meet debut author Paul Durham, since his title, The Luck Uglies  (April 2014) has to be one of my favorite fantasy novels this year.  And I finally had the chance to ask Christopher Healy to sign his 3rd book in his League of Princes series: The Hero's Guide to Being an Outlaw (April 2014) to my son and daughter.    When I presented the names to him he looked up at me and said "Really?"   because my kids just happen to have the names of two of his protagonists from the series.  So I could only grin, shrug, and  respond with  "Yes, really."  Fun times.
Other Stuff
A big Thank You! to School Library Journal for providing the ever-useful Librarian's Lounge at BEA.  It's wonderful to have a little corner of the massive event to sit down, get something to sip and nibble and have a chance to chat with other library professionals from all over.  BEA is so much more manageable with such a place available, and makes us librarians really feel a part of it all!
I met any number of bloggers and book professionals and we had a blast talking books, SF and fantasy and other subjects.   I'm still going through all my notes and business cards.  Thank you all for making the event so much fun, even when we were waiting on extremely long lines!
And thank you to all the BEA 2014 staff that helpled make this happen, I know I didn't really cover a fraction  of the craziness and crowds that consumed those three days, but there were lots of dedicated staff directing lines, working with traffic and technical issues, helping attendees with directions and information.
It was marvelous fun and completely exhausting, I'm only starting to get myself back on track.  If you're in town next year and able to come I certainly recommend it to any book professionals and bloggers!
About Stephanie Whelan
I'm a children's librarian with a life-long love of all things science fiction and fantasy.
Posted on June 8, 2014, in General Posts and tagged Authors, Books, Children's Books, Children's Literature, fantasy, Libraries, literature, MG Books, Middle-Grade Fiction, Picture Books, Reading, reviews, Science Fiction, SF. Bookmark the permalink. 2 Comments.