A Tuesday Ten: London Calling . . .
So coming to you super late due to computer malfunction and blogger exhaustion, here's my latest ten.   I'm a personal fan of grouping books by where they're set.  Next to New York City, London is one of the more common stomping grounds for stories, including speculative fiction.  Here are ten stories from some version of London town!
1.
Un Lun Dun by China Mieville (Del Ray, c2007)
China Mieville's one foray in to children's fiction gave us this story of a girl who becomes stuck playing the hero in a fantasy adventure she wasn't supposed to be the hero for.  Both modern London and the alternate city scape of Un Lun Dun take readers on a wild tour of London sites and re-imaginings.  Mieville seems to have a love of recreating London in his stories for adults as well.  I suspect the author has a real fascination with the city
2.
How To Catch a Bogle by Catherine Jinks (HMH, 2013)
Birdie is a bogler's apprentice–which means she plays bait for creepy child-eating monsters so that Alfred the bogler can kill them.  This is set against the backdrop of an alternate history Victorian London .  Here, supernatural creatures really do haunt dark corners and dank sewers and when children start to go missing, it's up to Birdie and Alfred to make certain the bogle gets dealt with!
3.
Magician's Ward by Patricia C. Wrede (Tor, 1997)
Okay, okay, I freely admit that this one is more teen than middle grade, though it's more tween in some ways.  This alternate history Regency novel has been a favorite of mine for quite a few years and I couldn't resist adding it to the list.  In this version of history, London has a society of magic users and magic that exists and is governed by the country much as everything else.  Adventure and mystery combine with romance and society in a quite delightful package.  This is the companion volume to Mairelon the Magician (1991)
4.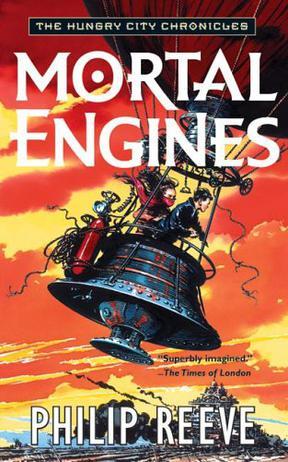 Mortal Engines by Philip Reeve (HarperCollins, 2001)
My only sort of science fictional story for the list, this is London on the move!  In this strangely steam-punkish world, giant cities move across the landscape, plundering the land below and clashing with each other in a bid for resources.  Our main characters come from the traction city of London, where dark plans are afoot . . . This is the first book in the  Hungry Cities Chronicles.
5.
The Amulet Samarkand by Jonathan Stroud (Disney-Hyperion, 2003)
Nathaniel is an apprentice learning to use his magic in this alternate version of history.  Living in London, he slowly goes from quietly getting by to deciding upon a path of revenge when he is humiliated by another magic user.  Little does he imagine what his actions will cause . . . The first book in Stroud's Bartimaeus sequence.
6.
Stoneheart by Charlie Fletcher (Disney-Hyperion, 2007)
This story features a dimension of London where the stone statues are alive.  When our main character breaks the head off a stone dragon, he awakens a dangerous power that has been sleeping.  Now he's the only one who can see the living statues around him, or one of the only ones. The first book in the Stoneheart Trilogy.
7.
A Christmas Carol by Charles Dickens (Candlewick, c1843)
Dickens and London seem to go together anyway, but this story of ghosts on the eve of Christmas is perhaps his most well-known work and one of his most influential.  Many of the modern day images and traditions of Christmas sprang from Dickens story depictions of the holiday.  It's a magical London story that continues to capture audiences to this day.
8.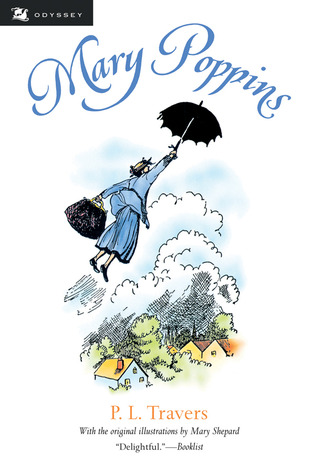 Mary Poppins by P. L. Travers (HMH, c1934)
We mostly know Mary Poppins by Disney's movie of the same title.  But the classic London movie began life as a book about the highly idiosyncratic Mary Poppins.  Mary, though she still travels by umbrella,  is a bit less sweet, more snippy in the book version but it's plenty fun to read!  And Mary didn't just have one adventure!  It looks like there were at least 6 books in the  Mary Poppins series that chronicled this governess and her antics with the Banks children.
9.
The Dark Portal by Robin Jarvis (Chronicle Books, c1989)
Epic fantasy with mice in the sewers of Deptford.  When one young mouse blunders into Deptford, he sets off a chain of events that will change the mice of Deptford forever. Heroic adventure and danger await!  This is the first in The Deptford Mice trilogy. Deptford is an area on the south bank of the River Thames in south-east London.
10.
Theodosia and the Staff of Osiris by R. L. LaFevers (HMH, c2008)
And one more!  This one features our young Theodosia, an intelligent no-nonsense girl  with a gift for magic and spotting curses.  Helping her parents with Egyptian artifacts at a London museum, Theodosia come across a mysterious staff . . . now more people are after the staff,  hungry to use its' power for their own ends!  This is the seond book in the Theodosia Throckmorton adventures.
A little bare bones this week–I'm afraid I'm a bit tired.
So what London stories in SF and Fantasy can you think of?  Comments welcome!
Posted on May 22, 2014, in General Posts, Lists and tagged Books, Children's Books, Children's Literature, fantasy, Lists, literature, MG Books, Middle-Grade Fiction, Reading, series. Bookmark the permalink. 1 Comment.