Previews for the Fall from HarperCollins
So, the lovely folks at HarperCollins invited me to their fall book preview (my first time! Loved it) and I'm happy to say I got to hear about quite a few good things coming up in Science Fiction and Fantasy for children!
Top of my excitement list?  Well that belongs to this book: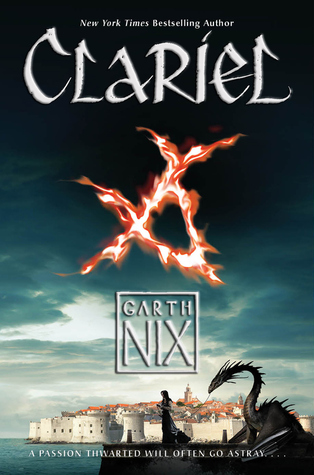 It's been more than a decade since Garth Nix penned Abhorsen (2003), the third book in his series.  Fans have been waiting, have hear rumors . . . and have probably gotten impatient from time to time.  But here it is, due to hit the shelves in October 2014.  Rather than a sequel to the last book, this one's a prequel to the series–chronicling events that took place many hundred years before.  It also sounds like the whole series will be re-issued  so that a whole new generation of readers can find these books and enjoy them.  (I still remember the day I found and bought Sabriel (1995) at the bookstore–so the fangirl in me is cheering happily.)
Also among the eagerly awaited? Neil Gaiman's The Graveyard Book (2007) is going graphic! This two-volume 4-color graphic novel is adapted by P. Craig Russell and illustrated by a team of artists who turn this beloved book into a stunning visual story.  The first volume will be out in August 2014, while the second will be published in October 2014–in time for Halloween, it looks like!  I'm excited by this new adaptation of this story on two fronts: firstly because it looks amazing and I can't wait to read it, secondly because I'm hoping it will prompt kids to not only read the graphic form, but to go back and read the original title!
Additionally, Katherine Tegen Books is spinning off the  popular Septimus Heap series into a new set of stories with a new protagonist!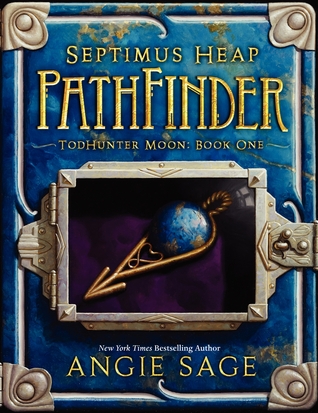 Pathfinder, the first volume in the Todhunter Moon series will be coming out in October 2014.  Alice Todhunter Moon, who insists on being called Tod, is our heroine of the series, the Pathfinder of the title.  This epic fantasy adventure takes place 7 years after the story arc of the original series and it sounds like fans will want to snap this one up!
So, what else is on the horizon? The Scavengers by Michael Perry caught my eye immediately.
Please tell me that's not an awesome cover with our heroine, Maggie (Or as she renames herself "Ford Falcon") on the roof of the car.  A  tween tale that's part dystopia, part pluck and survival.  In this future, humanity has two choices, move into the safety of the bubble cities, or take their chances in the wild and dangerous world outside.  I think you can figure out by the cover which choice Maggie's family makes!  Middle grade plucky futuristic adventure!   If memory serves this is also the author's first foray into tween fic.  This will be out in  September 2014.
Next up?  A new middle grade fantasy series for October 2014.  The Balance Keepers takes readers on an adventure underground–to a world and a secret society that exists at the center of the earth.  Our young protagonists in this story are Balance Keepers–special people with the ability to maintain the balance between the three underground realms.  If the realms fall out of balance, it could mean tragedy for the upper world!  This is Lindsey Cummings first book for middle grade readers.
The next title I've already mentioned in my blog.  The Guardian Herd: Starfire by Jennifer Lynn Alvarez is a new animal fantasy epic featuring an entire community of pegasi.  This is the first in a series and it's bound to be popular with readers of other animal epic fantasies like Guardians of Ga'Hoole and the Warriors series.  This will be out in September 2014 and looks like a great read for the younger middle grade audience.
Cryptids are the name of the game in this modern adventure series!  Our young hero discovers an entire secret society dedicated to  protecting mythical creatures.  Jordan gets involved in some fast and funny adventures in this new series.  This one's for those who like light-hearted humor.  The first book in this series will be out in September 2014.
To wrap up we have Eric Kahn Gale's The Zoo at the Edge of the World.  Love the cover for this one.  This is a historical fantasy set at the end of the nineteenth century.  Marlin Rackham's father,  a famous explorerhas created a remarkable zoo with some of the animal wonders of the world.  Marlin is a boy who stutters–and he's more comfortable around animals than people.  But when a black panther confers a mysterious gift on Marlin that allows him to hear what the animals have to say, he will finally have to speak up and be heard.  Call me intrigued.  Looking forward to trying this one.  Eric Kahn Gale hit the publishing scene last year with The Bully Book and I'm curious to see his approach to this story.
So there you have it! I hope this was a worthwhile post for my readers out there! Thanks again to HarperCollins for the marvelous morning of books!  Comments welcome!
About Stephanie Whelan
I'm a children's librarian with a life-long love of all things science fiction and fantasy.
Posted on May 16, 2014, in General Posts, Publisher Previews and tagged Authors, Books, Children's Books, Children's Literature, fantasy, Historical Fantasy, Lists, literature, MG Books, Middle-Grade Fiction, Publisher Previews, Reading, Science Fiction. Bookmark the permalink. 2 Comments.