A Tuesday Ten: Mothers from the Fantastic
Here I was, approaching Mothers Day and I thought, Hey! Let's make a list of books where mothers are a main character in the story!  And I started writing some down . . . and then stopped.  And as I flipped through the stories in my head it quickly became apparent that mothers are not easily found.  In order to make my 10 list, I had to mix it up a bit with a variety of things, but the truth is that mother's tend to be the first casualties of a story.  Many more just don't factor into the adventures that their protagonist children have.  A few get to have supporting roles, but they rarely take center stage.
Of course, since we're considering children's fiction here, this isn't as unimaginable as it first seems–mothers and fathers tend to be absent from much of the adventure stories.   But then I took stock of what I knew of adult and teen SF and Fantasy.  Same problem.  Mothers tend to be background characters, often tragically lost if they're in the story at all.  There are some exceptions, but it's rare to find active and adventurous heroines in speculative fiction who are also mothers!  So that brings me to my list  . . .
1.
Mrs. Frisby and the Rats of NIMH by Robert C. O'Brien (Aladdin, c1971)
Can anyone tell me of another middle grade children's book where a widowed mother is the titular character, protagonist and heroine? Please let me know if you do, because I'm beginning to think this may indeed be something that has only been achieved by this particular story.  This 1972 Newbery winner tells the story of a field mouse who desperately needs to save her family from a deadly fate.  To enact that salvation, she seeks out the mysterious rats of NIMH.  A quest fantasy of the first order, and a mom to be proud of.  Perhaps the only reason the "mom" character could take central stage was because it was in animal form rather than human.
2.
The Country Bunny and the Little Gold Shoes by Du Bose  Heyward, illustrated by Marjorie Hack (Houghton Mifflin, c1939)
My other titular mom is this particular Easter picture book. Mother Cottontail dreamed her whole life of being one of the five special bunnies chosen to be Easter Bunnies.  She was mocked for her dreams, and everyone assumes that when she gets married and winds up with 21 children to raise, that will be the end of it.  But it isn't.  This mom figures out how to handle her household and pursue her dreams.  While the golden shoe touch at the end is a bit too much of a "rescue" for my taste, Mrs. Cottontail is still the heroine here, and still a bunny who manages to have a family and have a dream.  For a book published in 1939, this is a pretty impressive  story arc to see.
3.
The Prince Who Fell From the Sky by John Claude Bemis (Random House, 2012)
A final non-human mom for the list, and my first SF addition.  Casseomae is an old bear who lives alone–all the cubs she's birthed have been stillborn.  So when a craft crashes into the wood, killing everyone but a small human child, she takes on the role of caring for him and protecting him from the animals who would harm him.  This old bear sets off on a journey with her furless "cub" to find other humans he can be with.  That won't be easy in this future dystopia, where animals rule the planet, cities are a fallen ruin and humans are only a story told to frighten the furred kind.
4.
Mars Needs Moms by Berkeley Breathed (Philomel, 2007)
In this book for younger readers we run into the conflict of some invading Martians who've decided they need moms on their planet, and so have decided to find some on Earth to take back with them.  Our Earth boy has been lamenting how awful and frustrating his mom is . . . until he encounters aliens trying to take her away.  But can he get his mom back again?  Breathed's books tend to be a bit sophisticated for younger listeners, but I did find the sentiment in this one pretty sweet.  There's a rather bad movie out there that was inspired by this picture book that I don't recommend,  but it book itself isn't wholly bad.
5.
The Princess and the Goblin by George MacDonald, illustrated by Jessie Willcox Smith (HarperCollins, c1872)
Okay, so this is technically not about a mother, but a great-great grandmother.  Little Princess Irene discovers her mysterious and lovely great-great grandmother living high up in the castle where she eats pigeon eggs for meals. This grandmother has some special gifts and magic for her great-great granddaughter that will help see her through the dangers she will face from the plotting goblins.  I've always loved the character of the great-great grandmother.  She's vivid and enchanting and interesting–and one of the best things about this story.
6.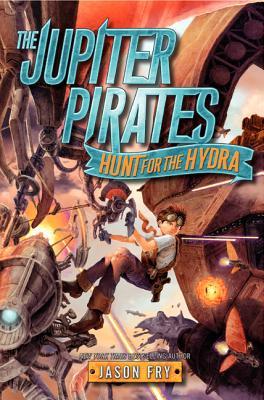 The Jupiter Pirates: Hunt for the Hydra by Jason Fry (HarperCollins, 2013)
This story is a family affair!   The Hashoones are a family of outer space privateers–one where their mother,  Diocletia, is captain of their ship, the Shadow Comet.  Mother, father, children and extended family all play their roles in this story, and it's admittedly delightful not only to see a mom in the story, but a working mom who still gets to be part of an exciting and breathless kind of story!   Check out my interview with Jason Fry where I asked him about the role of family in his swashbuckling series!  I'm delighted I can add this one to my list.
7.
Heckedy Peg by Audrey Wood, Illustrated by Don Wood (Houghton Mifflin Harcourt, 1992)
This marvelously illustrated picture book is more fairy tale than anything else on my list, but it's a good example of mother as hero.  When a mother leaves her children for the day and warns them not to open the door to anyone,  the children manage to get tricked into opening the door for a nasty witch who transforms them into various foods and steals off with them to eat in her own home.  The mother goes to rescue the children, tricking the old witch and solving her riddles to restore her children.   The mother as hero is really rare, but it's nice to see.
8.
Calling on Dragons by Patricia C. Wrede (Jane Yolen Books, 1993)
This is the third book in the Enchanted Forest Chronicles.  It's not my favorite of the series, but  it does feature Cimorene in the role of Queen and mother-to-be.  While Cimorene is playing a secondary and supporting role to the fire-witch Morwen in this book, she still makes the cover of the story, and it is her her dramatic plot arc in the end that sets the story up for the fourth book.  It's rare that we see pregnant moms at all in children's fantasy, and rarer still that they go out questing.
9.
Castle in the Air by Diana Wynne Jones (Greenwillow, c1990)
This is the second book following the adventures of  Howl's Moving Castle and it's not quite as strong a list contribution as I would like.  Our mom character is actually in a smaller role for this story.  Sophie does show up in the story–with her baby in tow no less!  But it's an unusual situation and Sophie's story is a lesser plot arc in the story of our main protagonist.  Still I thought it of note that we actually see one of our characters helping to work through a crazy fantasy plot involving kidnapped princesses  while dealing with her newborn son at the same time.
10.
Fin M'coul: The Giant of Knockmany Hill by Tomie De Paola (Holiday House, c1981)
I'm winding up with this old Irish tale and I admit I'm assuming that Fin's wife Oonagh, is also a mother.  In this story poor Fin is being relentlessly pursued by Cucullin–a giant who wants to beat him up.  Afraid  of facing him, Fin begs Oonagh to help him.  His clever wife manages to trick Cucullin and render him helpless–with the help of Fin dressed up as a baby in a baby cradle.  Seems to me there wouldn't be a cradle about if she wasn't a mother.  Regardless, Oonagh is certainly the capable one of this tale, she knows how to face down even the worst foes with calmness and poise and devious mind.  She very directly saves Fin's sorry butt from getting seriously kicked.
So there's my list!  I hope you enjoy it and please do add any other appropriate titles in the comments!  What titles can you think of?
About Stephanie Whelan
I'm a children's librarian with a life-long love of all things science fiction and fantasy.
Posted on May 7, 2014, in General Posts, Lists and tagged Authors, Children's Books, Children's Literature, fantasy, Genres, Lists, literature, MG Books, Middle-Grade Fiction, Picture Books, Science Fiction, sequels, series, SF. Bookmark the permalink. 3 Comments.